This sixth installment of the Mediterranean cruise series follows the exotic, historic cars and beautiful cityscape in Monaco.
On the morning of our arrival in Cannes, we made our way on foot through the narrow alleys to the train station. A short train ride later, we arrived in Monaco.
Cars
For me, Monaco has always been synonymous with motorsport. Every summer, the tiny city-state plays host to one of the most famous automobile races in history, the Monaco Grand Prix.
In our trip, we had missed the race by a few months. However, we still had the chance to spot some priceless sports cars.
1968 Lamborghini Miura P400
This Lamborghini was penned by Marcello Gandini at Bertone in the mid-1960s. It's iconic and instantly recognizable.
This example, likely Chassis 3480 is one of only 764 Miuras built during its production run from 1966-1973. Even though I've seen a few Miuras in car shows and at cars and coffee, I still get excited when I see one.
Petrolicious has created a wonderful story about a Miura owned by a man here in California.
Stout Scarab
The funny-looking van below is the Stout Scarab, which some consider the first production minivan. It's probably the rarest car I've ever seen. Only nine are thought to have been produced, and of that, five remain today.
My Classic Car did a short segment about the Scarab some time back. It's well worth the watch.
1932 Maserati V4 Sport Zagato Spider
This Maserati, Chassis 4002, started as a grand prix racer in the 1930s. It was soon sent to Zagato, who fitted it with a new, roadster body. It's now part of a private collection of Italian sports cars and is rarely seen in public. Read more here.
1962 Ferrari 250 GTO
My two favorite vintage Ferraris are the 250 Testa Rossa with the "pontoon fenders" and the 250 GTO.
This one, chassis 3445, is one of 36 built. It started its life in 1963 as a red car but was painted the following year in this Swedish livery to comply with racing rules of the time.
What makes this particular car interesting is that it got into a severe accident during a road rally in 2012. It was sent back to Ferrari Classiche, where both the bodywork and mechanicals were fully restored to their original delivery condition and configuration.
You can watch this exact car starting up and driving a few years after the restoration in 2018's Concorso d'Eleganza Villa d'Este 2018.
Unimog
I expected to see plenty of sports cars, but I wasn't expecting to see a 1950s Unimog parked on the Place du Casino. The Unimog was designed for agricultural and forestry applications soon after World War II.
What's most impressive is its mechanicals, specifically its use of portal axles. They use gearing to offset the axis of the shafts far above the center point of the wheels, providing higher ground clearance.
Ford Mustang convertible
This Mustang convertible is a first-generation model with a 289 cubic inch 4.7 liter Windsor small-block V8.
Given the simulated wire wheel covers were only offered as an option between the first three years of production (1964-1966), this particular Mustang was likely produced then.
Renault Twizy
Even Monaco has its fair share of the Renault Twizy, which I spotted and photographed at every stop on our trip.
Cityscape
The Monaco cityscape has the same sort of cramped verticality as Hong Kong, yet at a smaller scale. Nearly every street offers a view of the beautiful ocean framed by narrow, tall buildings.
I wish I had more time to spend in both Monaco and Cannes. I'd love to come back and spend a few days walking and photographing them.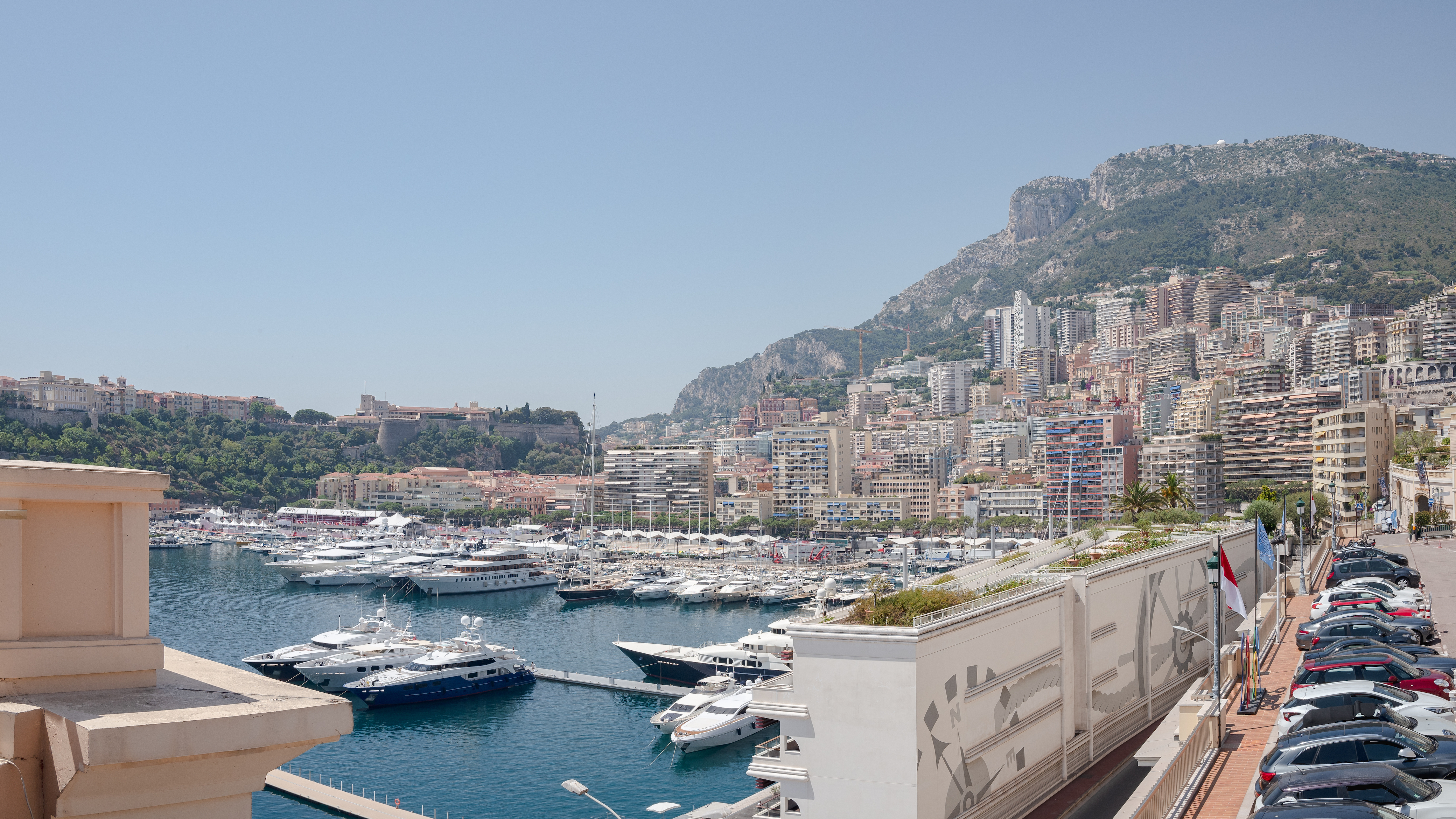 ---
Thanks to Q for reading drafts of this.