Recently, my wife treated me to a birthday trip — the first in more than a year of staying at home.
Since I had switched from the Leica Q to the Fujifilm X100V last year, it was the perfect chance to put the new camera through its paces.
First time traveling with the baby
We had a baby last year, and everything about our lives has changed. That's not to say that things have gotten worse. Most aspects are better, though we have less time to ourselves, and logistics can be complicated.
That last point is why we decided to stay closer to home. At that time, we only had a few narrow windows in which the baby is awake during the day. We picked one of those windows in the afternoon and drove to our destination for the weekend, Cavallo Point.
First time traveling with the X100V
I've owned and used cameras from most major manufacturers. For the last few years, I was shooting on the Leica Q. I loved it. I still think that it's the best digital camera I have ever owned.
Last year, as I canceled international trips and the reality of the pandemic sunk in, the Leica, which I loved for travel, started to look like a costly paperweight.
The Fujifilm X100V, which fulfilled everything I dreamed of in my Leica Q3 concept, intrigued me. I have been familiar with the X100 range for a while. Eight years back, I made the jump away from DSLRs to the original X100. It was the gateway drug into the world of large-sensor cameras that eventually lead me to the Leica Q.
So, right as I was getting used to sheltering at home, I sold the Leica and grabbed a nearly brand-new X100V.
Here are my first impressions.
Strengths
The articulated screen is the feature I missed most when I switched to the Leica Q from the Sony a7. Shooting from the waist with the X100V is such a delight.
The dedicated ISO dial is both easily accessible and discreet. It strikes a perfect balance given that it's a lower priority than aperture and shutter speed.
Even though I spend 80% of the time using the EVF, the optical viewfinder is a joy to use when I want the experience to feel more analog.
Weaknesses
The software menus are too complicated and difficult to navigate in comparison to the Q. With less time on my hands, reading through manuals and support forums to find functions is a big downside.
The manual focus switch and focus-by-wire can't match the purely mechanical approach taken by the Q.
Overall, I've been enjoying the X100V. The images straight out of the camera are great, though I've been using adapted versions of the presets I made for the Q.
I still sometimes itch to use a Leica again. I miss the simplicity and tactility.
Cavallo Point
Cavallo Point is a beautiful old military installation between the base of the Golden Gate Bridge and Sausalito. It was built in the mid ninteenth century.
Image courtesy Cavallo Point Lodge
Twenty years ago, it was transformed into a park with most of the buildings becoming lodging.
What made this trip different is that we spent all of our time within Cavallo Point. Unlike other trips where our hotel functions as a home base from which to visit other places, Cavallo Point Lodge was the destination.
A welcome treat in our room · Fujifilm X100V · 23mm · f/4 · 1/60 · ISO 1250
We stayed in a modern building nestled up in the hills above the parade grounds and older buildings below.
Staying in one place for the weekend presented a unique opportunity. I could photograph it at different times of the day. I didn't go out at night given how early the family sleeps now, but I did capture some shots from dawn until the afternoon.
Dawn
Both mornings we spent there, I was up before dawn as soon as the baby woke up. I took a morning stroll to pick up some coffee and pastries from the lodge reception.
Given that Cavallo Point faces southeast, the morning light is simply stunning. The nearly identical historical buildings felt a lot like what I would imagine a remote Scandanavian village to feel like.
Nearly no one was awake, so it exuded a sleepy town atmosphere.
Fujifilm X100V · 23mm · f/5 · 1/25 · ISO 3200
Fujifilm X100V · 23mm · f/7.1 · 1/17 · ISO 3200
Fujifilm X100V · 23mm · f/7.1 · 1/10 · ISO 3200
Fujifilm X100V · 23mm · f/7.1 · 1/30 · ISO 3200
Fujifilm X100V · 23mm · f/7.1 · 1/25 · ISO 3200
Fujifilm X100V · 23mm · f/7.1 · 1/60 · ISO 3200
Sunrise
At sunrise, the Golden Gate Bridge lit up in the warm rays of the morning sun while the trees cast shadows on the buildings' white wooden siding.
Fujifilm X100V · 23mm · f/2 · 1/680 · ISO 160
Fujifilm X100V · 23mm · f/2 · 1/1250 · ISO 160
Fujifilm X100V · 23mm · f/7.1 · 1/240 · ISO 160
Fujifilm X100V · 23mm · f/7.1 · 1/500 · ISO 160
Fujifilm X100V · 23mm · f/7.1 · 1/320 · ISO 160
Midday
By midday, we were treated to blue skies and rather harsh sunlight, which are my favorite shooting conditions.
When I first got started in photography, I didn't know how to handle the severe highlights and shadows that result in photos taken at midday. Over time, I've realized how to work with it and now prefer that type of lighting.
Fujifilm X100V · 23mm · f/11 · 1/180 · ISO 160
Fujifilm X100V · 23mm · f/11 · 1/480 · ISO 160
Fujifilm X100V · 23mm · f/11 · 1/350 · ISO 160
Fujifilm X100V · 23mm · f/11 · 1/240 · ISO 160
Fujifilm X100V · 23mm · f/11 · 1/300 · ISO 160
Fujifilm X100V · 23mm · f/11 · 1/250 · ISO 160
What we ate
Aside from taking walks and hikes in the scenic surroundings, the only other thing we did was eat.
Cavallo Point Lodge breakfast
The breakfast at the lodge was excellent. The most memorable dish is the coconut mango chia parfait. The sandwiches and eggs are also great.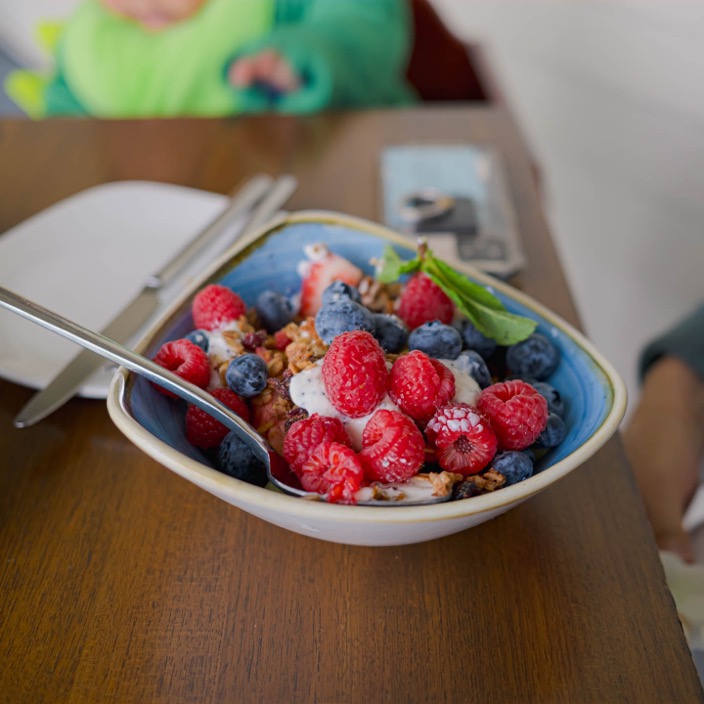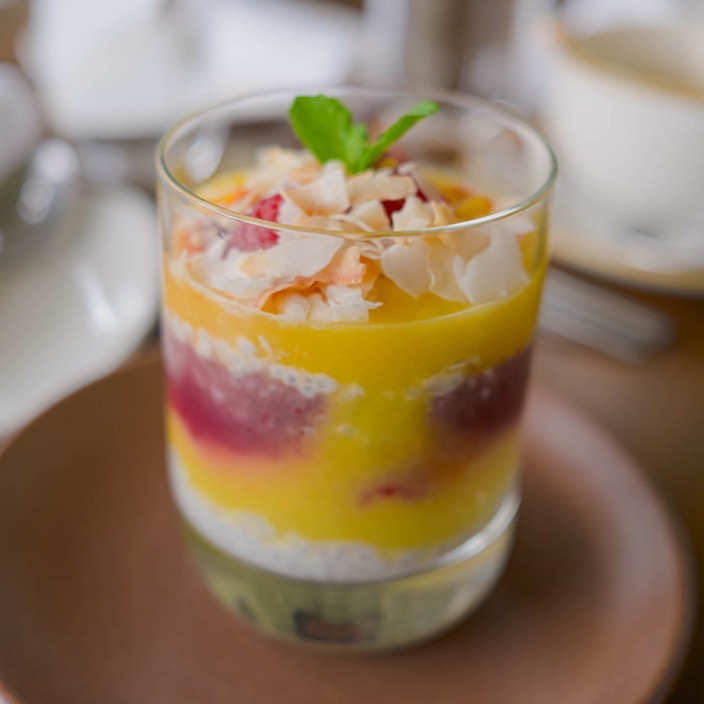 If you are a coffee drinker, espresso drinks are pretty decent.
Avatar's Restaurant
Avatar's has come up in past restaurant searches, but we didn't have a chance to try them till this trip. It's a fusion Indian Mexican place.
The staff are the kind of people that will go out of their way to make you feel welcome and enjoy even a simple thing like ordering takeout. We both had Punjabi Enchiladas and the Avatar's Dream dessert. Both were delicious and well worth a try if you are in the area.
Venice Gourmet
Venice Gourmet is what you would expect from a neighborhood Italian deli. We tried the Italian House Special and Avocado, Cheese & Sprouts sandwiches.
Of course, since we are in Northern California, we ordered one on Dutch Crunch and the other on sourdough. Both sandwiches hit the spot.
Fish 
No trip to the North Bay is complete without some seafood. Previously, I've mentioned the excellent crab sandwiches I had at Spud Point Crab Company. If I'm at a restaurant and I see it on the menu, I don't have to think twice. Hence, at Fish, which is right down the street from Heath Ceramics, we had to order the crab sandwich. The crab was fresh, the roll perfectly warm and buttered. It was perfection. We also ordered the fish special on pasta. The fish was perfectly prepared, but the pasta was a bit watery and bland.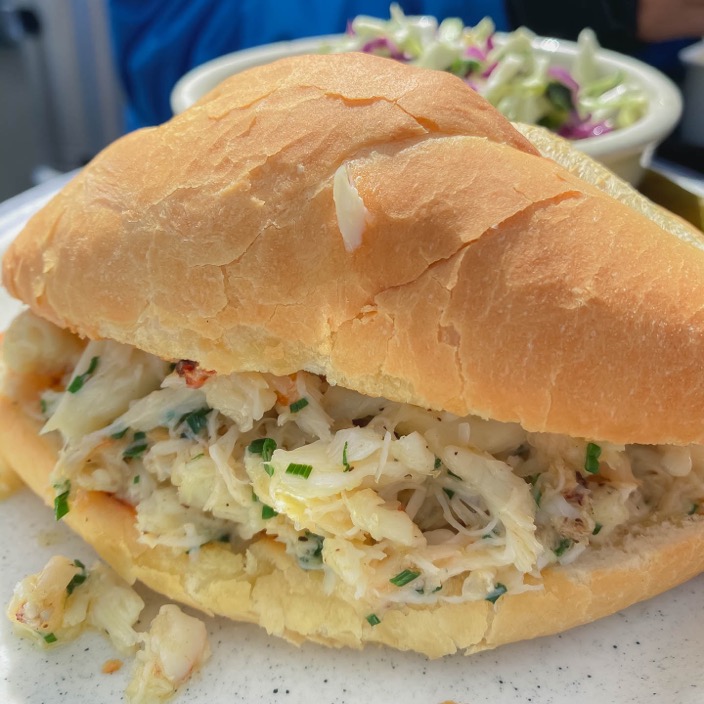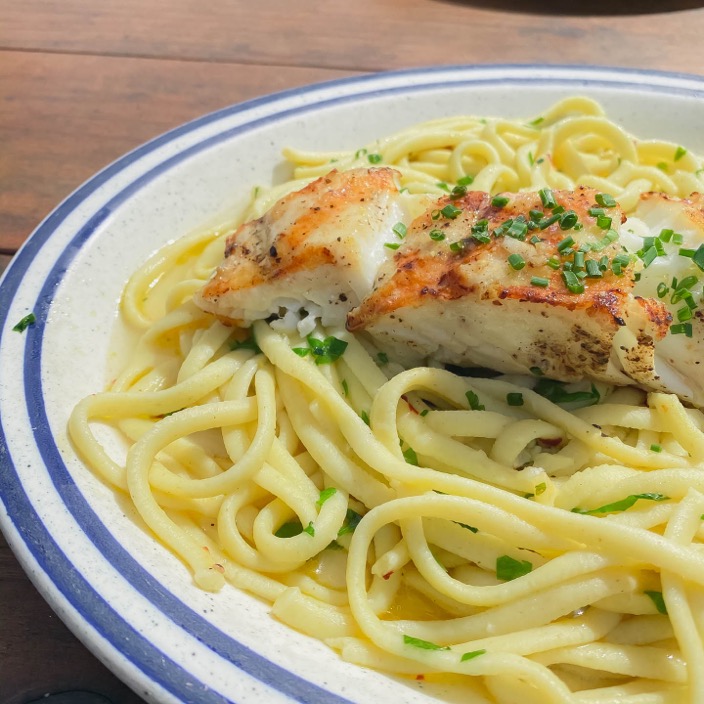 A new mode of travel
This trip was so different in comparison to our previous travels. Logistics required more care due to the baby's schedule. The COVID-19 pandemic meant that we avoided most tourist destinations. We spent a lot more time alone as a family.
Even with all of that, I enjoyed capturing our time through photographs and loved the simple moments spent with family.
---
Thanks to Q for reading drafts of this.