When Sean, one of my closest friends and fellow automotive enthusiast, asked me if I wanted to join him on a weekend-long grand tour, I could only give one answer, an unequivocal yes.
The formula is simple. We would plot out a route, borrow a sports car each, and spend two days doing very little aside from driving. We narrowed in on using the car rental service, Turo, and hence gave the journey the fitting name of the Grand Turo.
The cars
When choosing our cars, we wanted something a bit better than our respective daily drivers, but nothing so extreme that the performance is unusable on public roads.
My choice
At home, I drive a four-door Mk6 Volkswagen Golf GTI. It's an unassuming hatchback with a small wheelbase, sporty suspension, and just a touch more horsepower than the average econobox. I use it for everything from long-distance road trips, hauling eight-foot-long lumbar, and spirited drives in the windy backroads of the San Francisco peninsula.
Given that the GTI is essentially a Swiss army knife of a car, I knew that I needed a focused sportscar. Cars like the BMW M4 weren't appealing since just as the GTI is a sportier Golf, the M4 is essentially a sportier 4 Series. Mid-engine sports cars like the Audi R8 and Lamborghini Gallardo were too high of a jump up, both in cost and performance.
After some searching, I found the perfect one, a Porsche 911 Carrera.
Porsche 911 Carrera (991)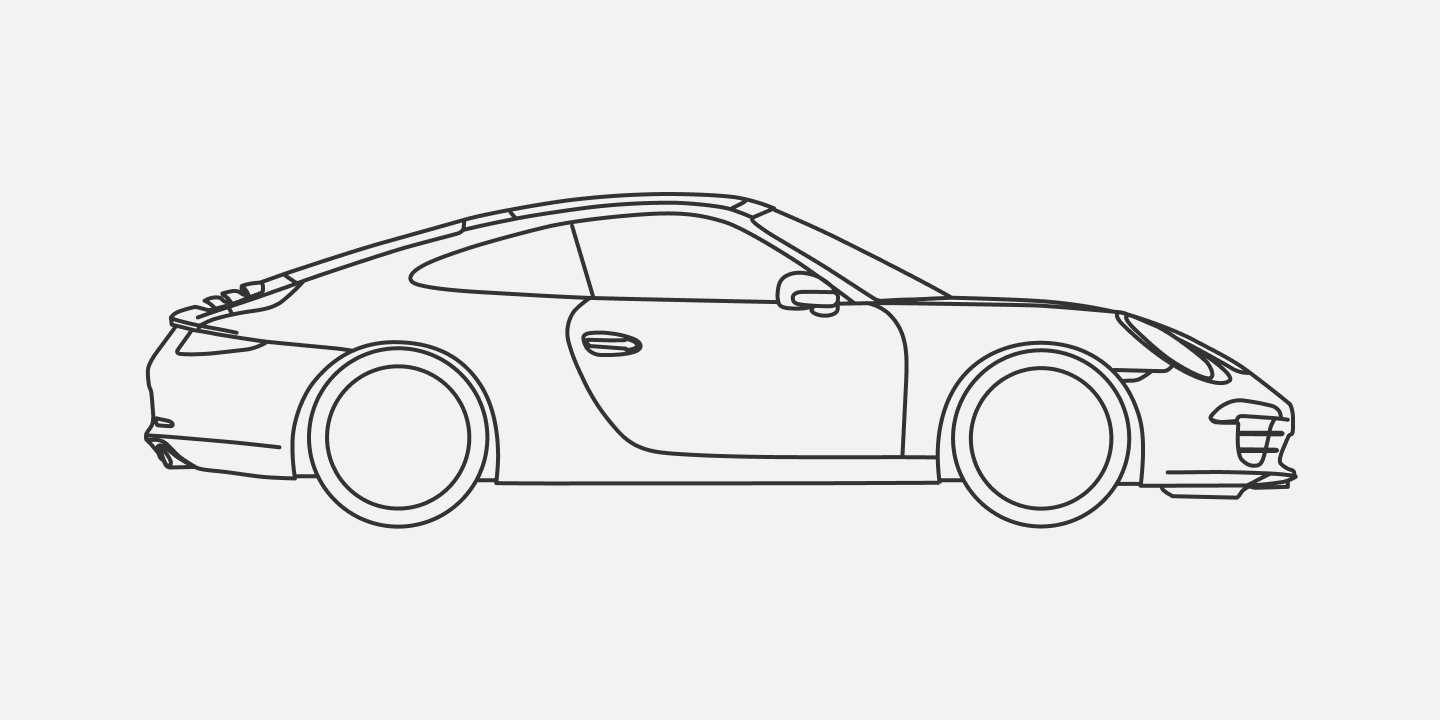 Torque
288 lb⋅ft at 5,600 rpm
Top Speed
178 mph (287 km/h)
0 - 62 mph (100 km/h)
4.6 seconds
Weight
3,086 lb (1,400 kg)
This example is a rear-wheel-drive base model from the previous 991 generation. The 911 is the quintessential Porsche, a car that has incrementally changed and improved since its introduction in 1964. While it weighs nearly the same amount as my GTI, it's different in every other way.
Leica Q · f/16 · 1/160 · ISO 100
There's more power, more torque, a faster shifting transmission, longer wheelbase, larger tires, and a much sportier chassis. From the exterior, it is understated, yet still clearly a sports car. The quality of the interior of this lowest model is just a notch above to my highest trim GTI. As a whole, it's a substantial step up from my daily drive.
Sean's choice
Sean's daily driver is a base model first general Cayman (987). It's the coupé version of the Boxster, the car that many credit with saving Porsche in the late 1990s.
The Cayman shares the Boxster's powertrain with the engine in the middle, driving the rear wheels through a manual transmission. The result is an incredibly light and nimble car. Similarly to me, Sean wanted to drive a vehicle derived from a completely different equation. He looked for something powerful and loud, a muscle car. That's how he landed on the Jaguar F-type.
Jaguar F-Type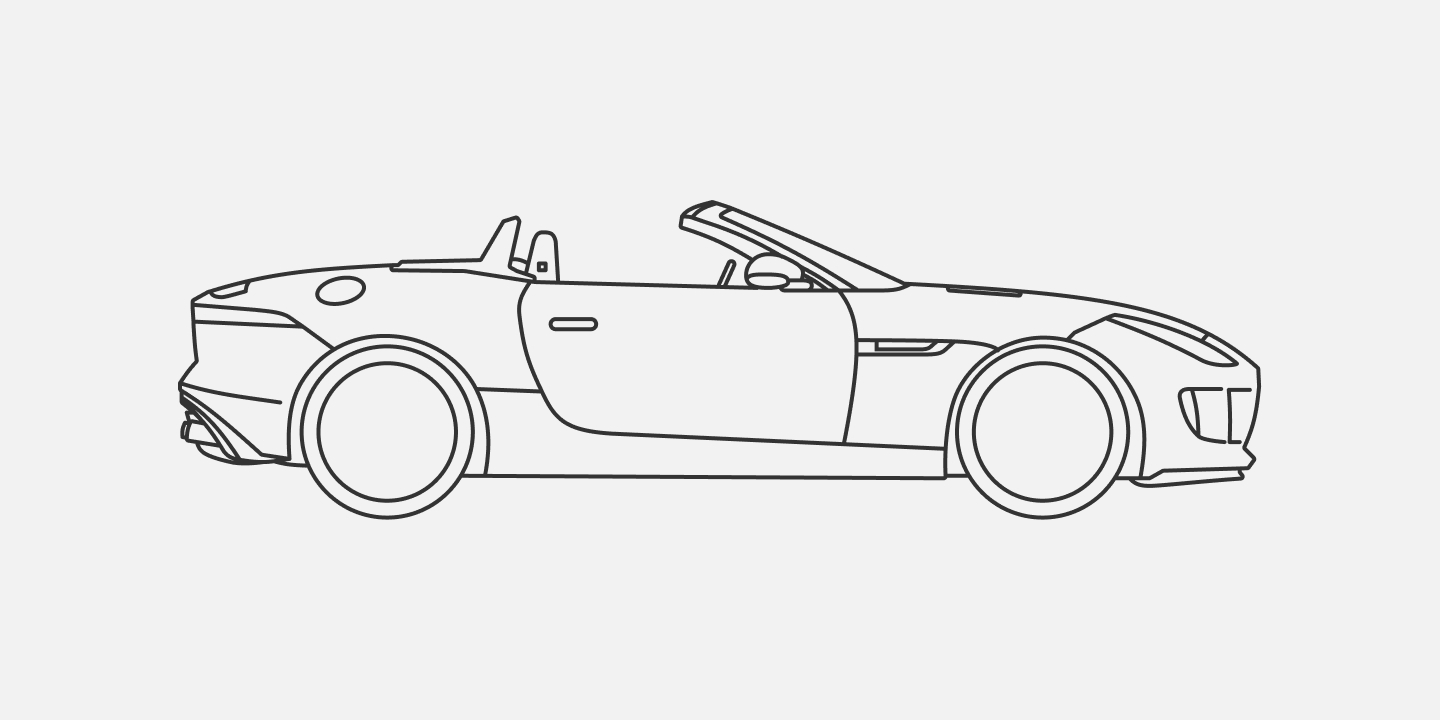 Engine
5.0 L supercharged V8
Transmission
8-speed automatic
Torque
460 lb⋅ft at 2,500 – 5,500 rpm
Top Speed
186 mph (300 km/h)
0 - 62 mph (100 km/h)
4.3 seconds
Weight
3,671 lb (1,665 kg)
The F-Type, in its styling, powertrain, and design details, is a nod to the iconic E-Type. The smooth exterior wraps a ludicrous 495 horsepower supercharged V8 engine that makes a beautiful grumbling noise through the quad exhaust. It's everything you would want from a British sportscar.
Leica Q · f/7.1 · 1/200 · ISO 100
Day one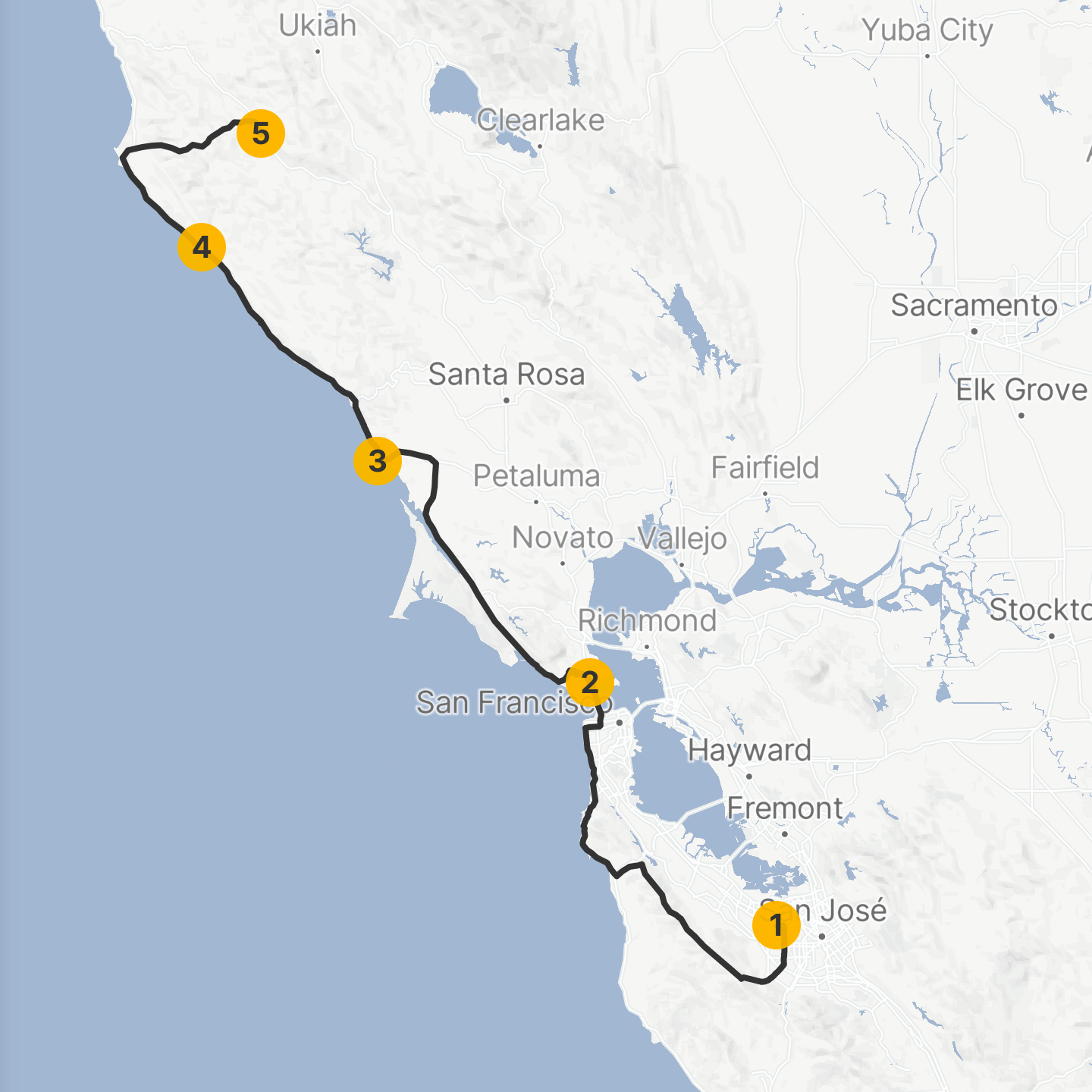 On the first day, each of us woke up around dawn in our respective houses eager to beat the minivans and SUVs that usually clog California's most scenic routes.
As I started the 911, the six-cylinder engine roared to life with a refined, mechanical growl. I knew that I was going to love that soundtrack for the next two days.
While making my pre-drive checks, I noticed a problem, the pressure in one of the rear tires was low. I limped the car to the nearest gas station to refill the tire while I disappointingly informed Sean over two-way radio that I'd be late.
I then drove to our predetermined meeting place in downtown Saratoga where we had seen the Saratoga Classic & Cool Car Show a few weeks before. As I rolled into a slowly awakening Saratoga and noticed a menacing-looking F-type with its top down parked on the side of the road, a grin replaced what had been a frown on my face. It was really happening!
Our route took us up into the mountains to Skyline Boulevard, a fast, slightly windy mountain road that runs the length of the San Francisco peninsula. We made our first stop at Silicon Valley Vista Point, a favorite among other car fans. It was a clear day, and we could see from San Jose to San Francisco's skyscrapers.
Leica Q · f/16 · 1/60 · ISO 250
We continued on Skyline Boulevard past Alice's Restaurant, a popular stop for motorcyclists and sports car drivers, and onto Highway 1. As we drove across the Golden Gate Bridge from San Francisco to Marin County, I started to get a feel for the 911's character. At low speeds and on the highway, it felt quite similar to my GTI. However, on the long, windy sections of Skyline, the steering and planted chassis showed their real character. The impressive grip made it feel nearly glued to the ground.
On the other side of the bridge, we made our first long stop at Le Garage for some lunch. It's a favorite place for lunch anytime I want a bite on the way into Marin.
Leica Q · f/2 · 1/160 · ISO 100
After making quick work of our sandwiches, we took a walk around the nearby Galilee Harbor houseboat community.
Leica Q · f/7.1 · 1/200 · ISO 100
Leica Q · f/1.7 · 1/8000 · ISO 100
Leica Q · f/1.7 · 1/5000 · ISO 100
Leica Q · f/5.6 · 1/800 · ISO 100
Leica Q · f/5 · 1/1000 · ISO 100
Leica Q · f/3.2 · 1/800 · ISO 100
Leica Q · f/7.1 · 1/640 · ISO 100
Leica Q · f/4.5 · 1/800 · ISO 100
When I got back to my car, I took a look at the rear tire from before. Alas, it had lost a lot of pressure again. I was about to look for a nearby gas station when Sean mentioned that his Cayman has a factory-supplied air compressor. I did some googling and confirmed that Porsche does indeed ship an air compressor in all of its cars.
Following the instructions in the manual, I lifted a plastic cover within the frunk to find the rectangular 12v compressor. A few minutes of filling, and we were back on the road. We continued north on Highway 1 along a route I've driven many times in the GTI. We made our next stop at a golf course along the way.
Leica Q · f/7.1 · 1/400 · ISO 100
Leica Q · f/14 · 1/125 · ISO 100
Leica Q · f/14 · 1/100 · ISO 100
In this area, chilly fog replaced the clear, sunny weather we had seen further south, a great reminder of California's microclimates. Again, after I returned to the car, I had to fill up the tire before getting back on the road. I was starting to become best friends with the compressor.
Our next stop was at a short roadside hiking trail that went down to the Pacific coast. It's the little diversions like this that made the Grand Turo so enjoyable. They added variety and let us experience the vastness of California's natural pleasures.
Leica Q · f/9 · 1/160 · ISO 100
Leica Q · f/9 · 1/160 · ISO 100
Leica Q · f/9 · 1/320 · ISO 100
Leica Q · f/4 · 1/1000 · ISO 640
Finally, as the sun started to creep closer to the ocean to our west, we made our dinner stop at Upper Crust Pizzeria. Its small-town charm and the tasty sourdough crust were the perfect way to cap off a day of driving.
Leica Q · f/9 · 1/1000 · ISO 100
Leica Q · f/9 · 1/640 · ISO 100
Once we neared Manchester, we turned off the highway onto a small mountain road. As the day quickly turned to night, the path wound tighter and tighter. The fatigue brought on by a full day of driving started to show. I called Sean up on the radio, and we took the final 20 miles to our Airbnb a bit slower.
Day two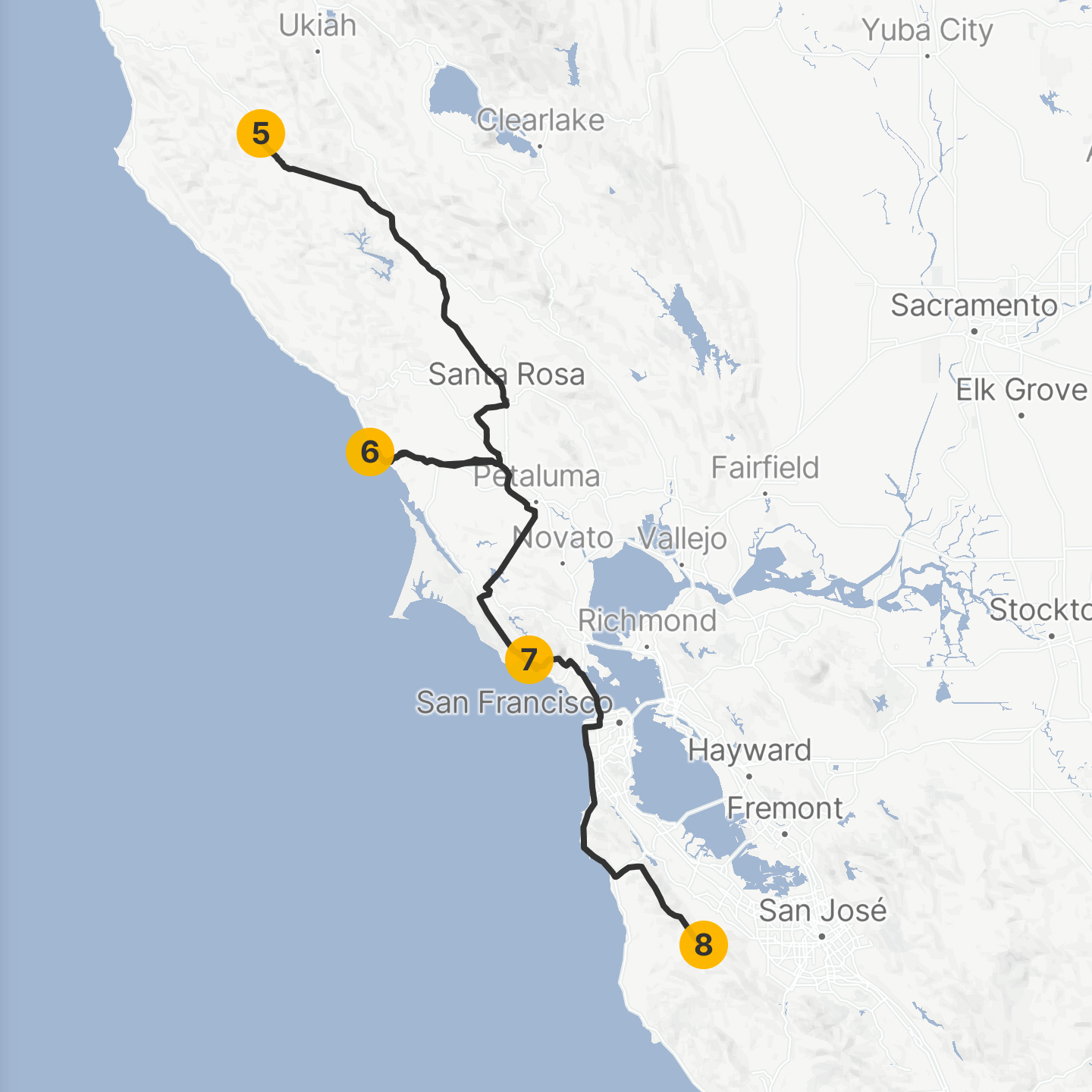 8
Silicon Valley Vista Point
After a good night's sleep, we awoke to the serenity of birds chirping and a morning fog that had blanketed the valley.
Leica Q · f/2.2 · 1/1000 · ISO 100
Leica Q · f/1.7 · 1/200 · ISO 100
Our Airbnb host provided us a delicious homemade, organic breakfast, setting a calm, relaxed tone to the start of the second day.
After my routine of filling up that pesky tire, the fog mostly cleared up, and we were back on the road. This next section of the trip, Highway 128 from Boonville to Cloverdale, was like a dream. The road surface was recently finished and smooth yet grippy. We had the road mostly to ourselves; there were very few other cars that morning.
There were longer straightaways, giving us the chance to truly experience the sheer speed that our cars are capable of. Here and there were the tighter turns, allowing us to clip the apexes, kicking up dust behind us. Unfortunately, thirty minutes later, we were back on crowded Highway 101.
Once we neared Santa Rosa, we turned off and started backtracking a bit towards Bodega Bay, which we had driven through the day before. Our destination? Lunch.
Leica Q · f/1.7 · 1/16000 · ISO 100
Leica Q · f/9 · 1/500 · ISO 100
You can't pass through this area without trying some fresh local seafood. We parked at a marina and walked over to the Spud Point Crab Company. We each got a crab sandwich and a clam chowder, as you must do if you get a chance to go.
Leica Q · f/16 · 1/60 · ISO 160
Leica Q · f/7.1 · 1/400 · ISO 100
Leica Q · f/3.5 · 1/5000 · ISO 100
As we were eating at the tables outside, we saw a new model Audi R8 Spyder slowly drive by. We joked that he should park next to us. When we returned to our cars, lo and behold, he actually did.
Leica Q · f/7.1 · 1/400 · ISO 100
Next, we attempted a stop at Stinson Beach, but it was jam-packed, and we were only lucky enough to find one parking spot. So we continued back across the Golden Gate Bridge and towards home.
Leica Q · f/16 · 1/100 · ISO 100
We made one more stop at the Silicon Valley Vista Point, where we said farewell and continued on our separate ways. Sean continued on Skyline, while I turned on to Page Mill Road, which is my favorite driving road in the area.
That road is ideal for a car like the GTI. The 911 felt too long and too wide for its narrow windy turns. I put the transmission in automatic and took it easy all the way to the bottom.
The Grand Turo experience
Would I do it again? In a heartbeat, but I'd rethink using Turo. The two-sided marketplace model means a wider variety of vehicles but at the cost of none of the conveniences of a rental agency. The tire pressure problem was an absolute pain. I refilled that tire more than a dozen times over the weekend, and it detracted from the driving experience. With a traditional agency, I could have swapped out the car for another.
Leica Q · f/9 · 1/400 · ISO 100
The particular Turo host I borrowed from used a "virtual key" solution, where the physical key could be used to start and stop the car, but the Turo app must be used for locking and unlocking. I learned the hard way that the car only starts if it was unlocked a few minutes before. So, if I sit in the car for more than a few minutes after unlocking the vehicle, it wouldn't start. I would have to open up the app, lock the car, and then unlock it again. On two occasions, the Turo App went blank when I didn't have cell reception, and the unlocking feature became unavailable. The first time, I was lucky enough to find a local business with wifi. The second time, Sean turned on tethering on his phone.
Miraculously, Sean had no problems with the car or with Turo, so it's safe to say that my experience was likely an outlier.
Leica Q · f/7.1 · 1/1000 · ISO 100
That's enough of the bad. I don't want this to overshadow the positives. Every time we stopped on the side of the road, passing motorcyclists and other sports car drivers would give us a thumbs up or some other acknowledgment. There was a real sense of camaraderie out on the roads that neither of us had experienced when driving our own cars. Also, having our two-way radios at our fingertips allowed us to share in exciting moments as if we were sitting next to each other.
Leica Q · f/11 · 1/250 · ISO 100
The Grand Turo was an experience for the senses. The soundtrack was a mixture of the F-type's roaring exhaust and the screaming flat-six behind my head. The scenery was simply epic. We saw foggy coasts, tall forests in the mountains, iconic vistas, and dense city. It was physical. We needed stamina for the sheer amount of driving, but also awareness on more challenging roads. Most of all, it was an opportunity to use some tools the way they were designed to be.
---
Thanks to Sean and Q for reading drafts of this.